You have just bought yourself a nice set of shiny new alloys or better still a new car with a nice set of rims and now want to ensure they stay clean using the best alloy wheel brush you can get your hands on.
But which one is the best for your rims? In a recent Auto Express product review their testers looked at a range of car wheel brushes on the market in order to decide which is the best buy.
Their choice was the Halfords Large Alloy Wheel Brush – but is it necessarily the best alloy wheel brush for you and how does it compare to others?…
The test was split between assessing how safe the brushes were to use on your wheels – they used a separate metal panel to assess scratches or marks caused by the brush.
Secondly how easy to use, comfortable and effective the wheel cleaner brushes were on cleaning your spokes, bolts and inner rim. And finally the build quality and price.
One thing we noted about the review is that it appeared not to include some of the longer reach brushes, such as the Meguiars Ultra-Safe Wheel Brush. Their top three best car wheel brush places were as follows:
Halfords Large Alloy Wheel Brush
Halfords Barrel Wheel Brush
Muc-Off Two Prong Brush
Best Alloy Wheel Brush Reviews
Here we take a closer look at what was said about each of these car wheel cleaning brushes:
Halfords Large Alloy Wheel Brush
As mentioned their Best Buy Wheel Cleaning brush was the Halfords Large Alloy Wheel Brush which the judges concluded had a good all-round performance, being easy to hold, with a solid yet grippy handle.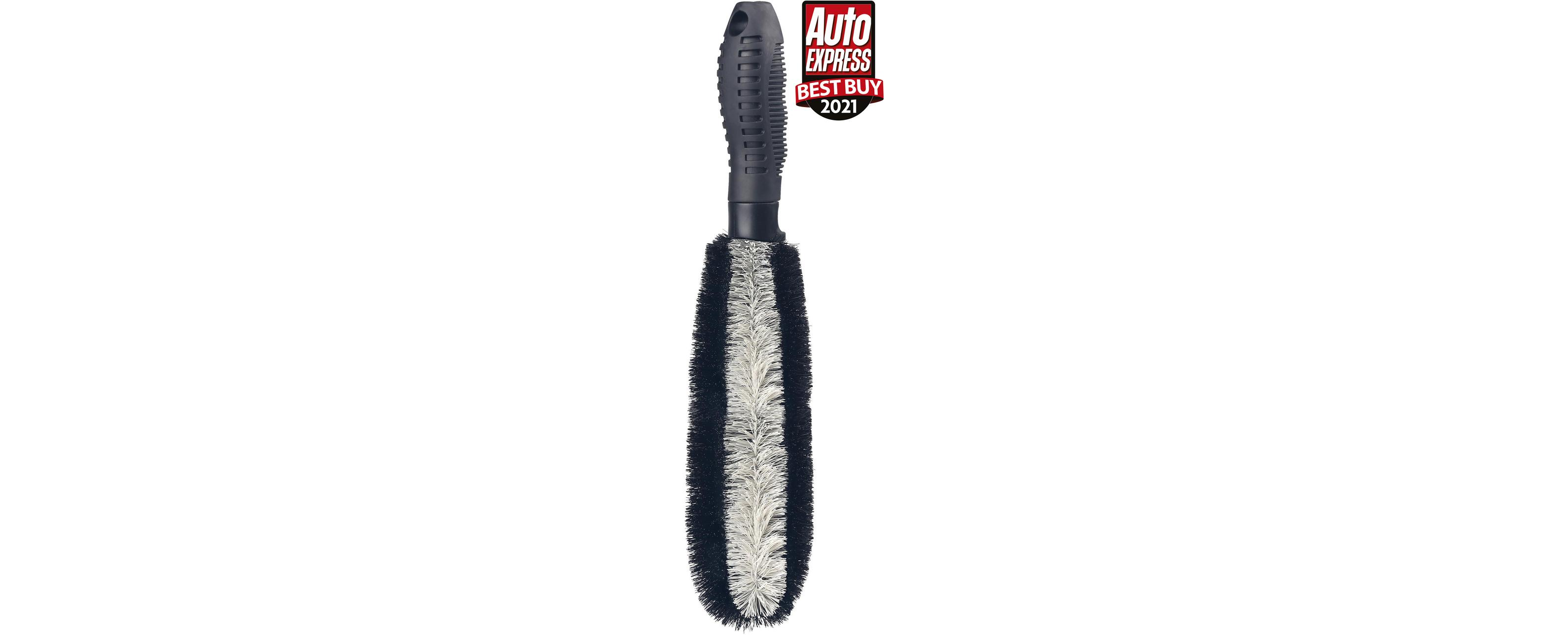 The single hooped centre holding tough bristles provided good cleaning properties of an alloy wheel brush whilst being soft enough not to scratch your alloy wheels.
Finally they concluded that being slightly longer than some of the others tested, it allowed better access to the inner rim and was also very fairly priced at around £7/$10 – the perfect combination for their best alloy wheel brush award.
Other similar style brushes available:
Halfords Barrel Wheel Brush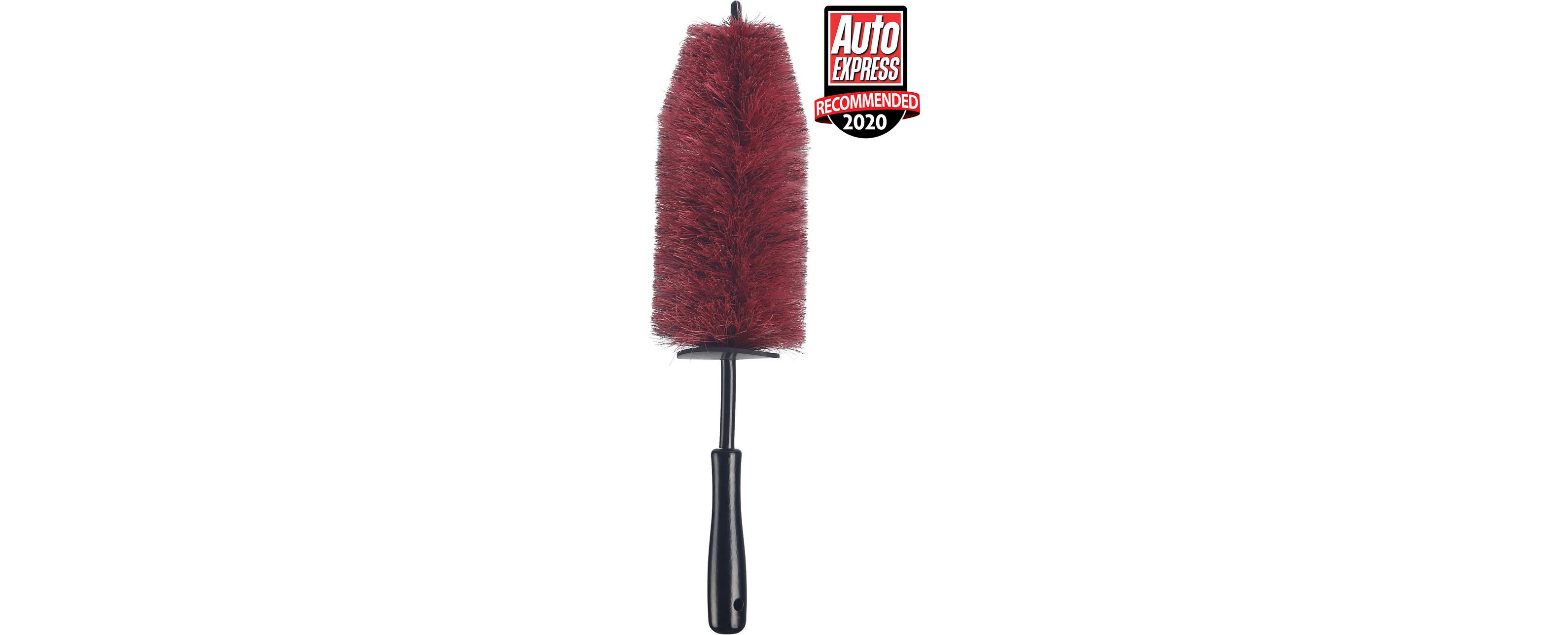 The Halfords Barrel Wheel Brush was one of the longest they tested with a head length of around 25cm.
The judges concluded that it had no problem in reaching the inner rim, although with a longer single shaft it did tend to flex a little more than some of the others.
They did not mention how it performed in the scratch test but we would imagine it would not have received their 2nd place spot if there had been any problems in this area. It is a little pricier at around £12/$17.
Other similar style brushes available:
Muc-Off Two Prong Brush
Thirdly was the Muc-Off Two Prong Wheel Brush .
This brush is a past review winner and the only one tested with two prongs of bristles which helps get into and around narrow spokes although not quite long enough to reach to the inner rim. It, however, won its place in the best allow wheel brush test on versatility and a good value buy.
Professional Alloy Wheel Brushes
All of the brushes mentioned above are consumer brand brushes, designed and made for your weekly (or less frequent) car wash. When it comes to the professional's choice of wheel brushes, many will be used day in and day out and thus professional detailers are prepared to spend a little more cash when buying the best alloy wheel brushes available.
The brand of choice for many car detailers can be narrowed down to just a small handful; Vikan,EZ Detail & Wheel Woolie.
Vikan Brushes
Vikan originated from a small brush manufacturer established in Denmark in 1898. They have since grown to become one of the world's foremost brush manufacturers.
Their aim is to produce brushes that both meet the specialist needs of the user and provide long-lasting durability.
Their  includes Vikan Hard Rim Cleaner , the Vikan Soft Wheel Rim Brush, Vikan Stiff Wheel Rim Brush and the Vikan Short Handle Alloy Wheel Brush.
All their rim cleaning brushes are made with chemical resistant synthetic filaments, making them extremely durable when used with most popular alloy wheel cleaners.
EZ Detail Brushes
EZ are relatively new to the market but have already established a reputation for brushes for cleaning your alloy wheels and rims.
The bristles on their brushes have a unique structure that not only provides powerful and safe cleaning but also enables the filaments to spring back to their original shape after use.
The bristles are also chemical resistant, so enabling them to be used with most leading wheel cleaning products.
Wheel Woolies
Like the Vikan products Wheel Woolies are made by a long-established brush manufacturing company. This time from the USA. Braun Automotive were originally formed in 1875 in New York.
Unlike many of the best alloy wheel brushes on the market that are made up of individually separated filaments, Wheel Woolies  are made with "matted" chemical resistant polypropylene fibers, giving them extremely effective and safe cleaning power. This unique design also eliminates the issue of bristle flattening that can affect some wheel brushes.
Wheel Woolies also look to make your detailing a little easier with a number of angled head  brushes making it easier to get into tighter spots without having to bend and crouch as much as you would with a straight-line brush.
The handles of these brushes are also made of polypropylene, thus making them extremely scratch-resistant and alloy wheel friendly.
Braun also works with a number of leading detailing product brands to produce their range of brushes  under a number of different brand names.
Take a quick look at the video below to see Wheel Woolies in action
Cleaning Wire Wheels
If you have wire wheels then you will probably find third-place winner, the Muc-Off Two Prong Brush , will be ideal for your needs. As mentioned above, this brush has two prongs of compact but soft bristles side by side which will encase the spoke of your wire wheels for better all-round cleaning.
Which Is The Best Alloy Wheel Brush For You?
The answer to that really depends on the type of wheels you have and the amount you want to spend. If you have a really large set of wide alloy wheels (18″+) then you still might find yourself struggling with the Halfords Brushes, even the longer one.
You may therefore be better off looking at a Longer reach brush such as the Meguiars Meguiar's Supreme Microfibre Long Reach Wheel Brush  with Non Scratch microfibre head.
For an average size 15-17″ of good quality alloy wheels we would tend to go with the Muc-Off  style soft bristle brush as your best alloy wheel brush choice, combining firmness, cleaning ability and softness of the bristles.
If however your budget will stretch to it then a set of Wheel Woolies  or  will be money well spent.
Please me know below your preferred brush in the comments box below.